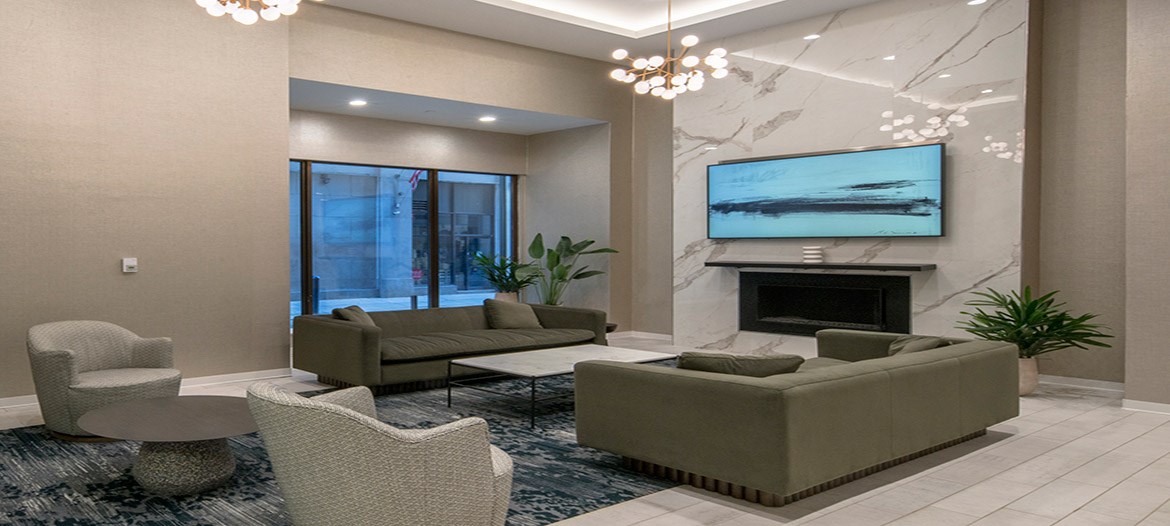 Testimonials
We focus on relationships, not just projects. Our clients agree. Seventy percent of the jobs we win come from repeat customers.

"We have completed nearly 10,000 housing units and we have used Domus the most. For nearly two decades we have constantly had a project under construction with Domus."

Richard Barnhart, Chairman/CEO
Pennrose Properties

"Over 15 years ago, CHCS discovered a partner in Domus. The value they bring to our work goes beyond their construction expertise. From understanding the development process to problem solving during all phases of development, they are involved and engaged. They consistently construct beautiful and well-functioning buildings for us and the seniors we serve. Hard-working, driven, committed, creative and fair, they are good people to have around the table and at the construction site."

Suzanne O'Grady Laurito, Assistant Director
Catholic Human Services
Owners
Owners are comfortable working with Domus because we provide solutions. Construction involves so many details—site work, governing agencies, subcontractors, materials, weather delays—we work with you at every stage to ensure there are as few bumps as possible. We also monitor your project's bottom line, and that keeps customers coming back. Seventy percent of the jobs we win come from repeat customers.

Among the many owners Domus has worked with are: St. Ignatius Nursing Home, Women's Community Revitalization Project, Catholic Human Services, Pennrose Properties, New Courtland Elder Services, and Abundant Life Church.

"Domus delivers the building the owner was looking for at the price they agreed to. They forge long-term relationships because they have the long view on their business."

Bill Becker, Principal
Becker Frondorff

"I really like the preparation of their numbers. It's realistic and the kind that do not get you into change orders all over the place. Another positive thing with Domus is that when you work with them you have no negative surprises. Domus works very well with the project architects."

Ted Robb
Chairman, North County Conservancy
Developers
Developers know that working with Domus means there is a steady hand on the wheel at all times. From the quality of our work on historic restoration projects to exceeding compliance rates on affordable housing work—the Domus team offers expertise in every facet of construction. Our 40+ years of working in the Delaware Valley have earned us a reputation for working well with neighbors and various governing agencies.

Among the many developers Domus has worked with are: Becker & Frondorf, SSH, McGovern Holdings, North County Conservancy, Mt. Airy USA, Beech Interplex and Pennrose Properties.

"We are really comfortable with our collaboration with Domus. We have worked with lots of builders but most successfully with Domus."

Nora Lichtash, Executive Director
Women's Community Revitalization Project

"Honesty, integrity, and the straightforward fashion with which Domus approaches the relationship. We have completed nearly 10,000 housing units and we have used Domus the most."

Richard Barnhart, Chairman and CEO
Pennrose Properties
Architects
Architects appreciate the team attitude Domus brings to the table. It makes sense for everyone involved in a job—the owner, the architect, and the contractor—to work together. Domus gets involved early in the planning stages to help everyone understand the intricacies of each project and how those details impact every stage of each other's plans.

Among the many architects Domus has worked with are: Cecil Baker & Partners, Kitchen & Associates, Kramer Marks Architects, and Thomas & Co.

"When Domus is selected as the general contractor, it doesn't mean that there won't be problems or issues to deal with. But you know they will be dealt with in a straightforward way, that the owner will not be taken advantage of, that Domus will make things runs as smoothly as possible, that you will make the architect look good."

Nancy Bastian, AIA, LEED AP
Cecil Baker & Partners

"We've collaborated with Domus on many projects, and we know that their consistent on-time, on-budget performance as well as the high quality of each project completed is a direct result of the integrity and extraordinary capabilities of the Domus team—through every level of the organization."

Steve Schoch, Principal
Kitchen & Associates


---